Our Jewelry Repair Services in Columbia, SC
NO SAME DAY SERVICE AVAILABLE!
NOTE: Due to Covid-19 we are limiting while you wait repairs. Same day service is also limited. David's Fine Jewelry has master craftsmen who work with the latest technology and traditional tools to service your treasured jewelry. We also adhere to the highest quality standards within the Jewelry Industry to ensure our customers have the very best product and experience. Our local Jewelry Repair Service is here for you.

Add or Remove Existing Links
Chain soldering
Change Earrings to Screw Posts & Backs
Clasp replacement
Clean & Polish
Full Shank
Half Shank
Head replacement
Pearl Restringing (Knotted or Unknotted Per Inch)
Polishing
Prong Re-tipping (Up to 12 Prongs)
Re-tip prong
Rebuild / Replace Prong
Replace diamond
Replace Earring Posts or Backs
Replace Head & Set Stone
Replace prongs to secure a diamond
Replace stones
Rhodium plating
Ring Size Down
Ring Size U
Ring Sizing
Ring Sizing Beads
Ring Sizing Spring Shank
Set Stones
Sizing Bracelets Down
Sizing Bracelets sUp
Sizing Necklace sUp
Sizing Necklaces Down
Solder / Fix break in Ring or Chain
Solder 2-3 Rings Together
Stone Replacement
Tighten Loose Stone with repair
---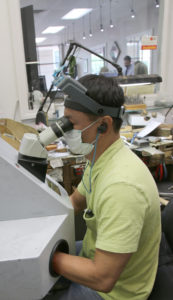 Jewelry repair service is fast with David's Fine Jewelry, and Matt Baughman will walk each customer through all the options. Our Columbia store has on-site repair specialists who will be happy to provide an estimate for services. In addition to our onsite jewelry service repair, David's Fine Jewelry will help performing manufacturer's warranty repairs on items.
Q: Does David's Fine Jewelry guarantee it's repair work?
A: Yes, we make a promise to the customer that our quality of work and the craftsmanship is the very best you can get. If you are unsatisfied with a jewelry repair service, please call Matt directly and he will make it right within one year of service.
Q: Can I get an estimate before the repair?

A: Yes, in most cases Matt will look at the jewelry repair service needed when you bring in the item. In some cases we may not have the tools onsite to fix the item and will work with you and 3rd party vendors to help find a solution. Our local Jewelry Repair Service can help get your job done.

Q: Can I just stop by and ask for a quick quote?

A: Yes, most of our customers don't have an appointment and will visit David's Fine Jewelry at their convenience. Of course, you may also book an appointment online or call (803) 732-1235 to ensure our jewelry repair specialists will be available to assist.
Q: Why should I trust David's Fine Jewelry?

A: Yes, our service is represented by more than 40 years of service from the Baughman family. We will be happy to provide references of our customers who have are satisfied.

---
One of the central qualities of David's Fine Jewelry is the ability to discern the needs of the individual customer. We'll work with you to find the best Local Jewelry Repair Service to your jewelry needs.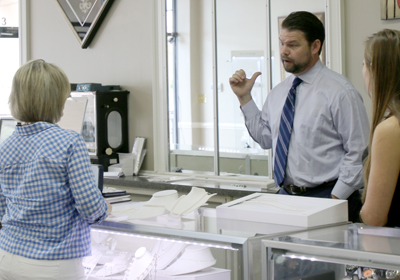 Located in one of the most trafficked and convenient locations in Columbia, David's Fine Jewelry is proud to service our community for more than 40 years.